When you have created an account with Amazon and eBay , then you can search for anything for an example.. Book or Chair.
Then you can copy the product name and check the same product on eBay.. most of the prices are higher on eBay.
For an example you go to google or Bing and type in Juicer.
You will see a whole lot of juicy links this is all Pay Per Click (PPC) on advertisement links.
If you click on one of those advertisement links.
All those links people are paying for will  show up even on Facebook.
So how do we make money with this?
All this advert has their Websites but we can use an affiliate marketing and push the advert. Juicer pay per click using.
www.offervault.com (list out companies looking for LEADS they going to pay you for every lead that you bring in.
Example you type in IPHONE.. AND SEARCH … PICK > audible.CO.UK (Audio eBook reader)
30 day free trail and free audio book.
The pay $23.59 cents to generate the leads, for every single person that decided that they want to try this free trail.
Then click on Join Network (orange button)… In other to drive traffic for the offer by advertising in one of this advertising site like JUICER(Bing)… Facebook, google ad word, or another one is 7search.com… driving traffic from this site is really really cheap. or even use .. Plenty of fish advertising its a dating site, but you got to think what kind of offer you are targeting and what sites are going to be best to purchase your pay per click marketing.
Social Traffic Power House (Free E Book)
Since you are aware  that plaintiffs are a dating site, so why not come
into another pay per click advertising site like MAXbounty, to search
for dating..  on the MAXbounty search engine ..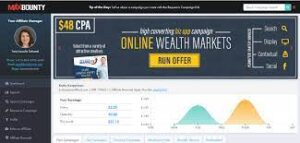 You will see a lot of offers, but you have to check on the CPA rate and other things we have to do in other for them to pay us that money.
So, if the CPA rate is lower that means the person has to do lesser job like the person has to enter his/her email address only but if the CPA rate is higher like $15, then it is a little bit complicated job, that requires that a customer has to enter their credit card and sign up a trail.
For an instance, we decide to pick on B2dating 35+CA, this is cool because
this is targeted, you can target people in UK or CA, or AU.
Then click on it and also view the website
landing page .. that is the reason
we don't need a website.
Someone comes to the landing page and the fill in their information's and hit
enter and it takes them to registration processes.
Hence it is a free trail and we get paid $5.30 cents a lead for that.